FIELD SURVEYS UTILIZING 3D LASER SCANNER
B-CAD utilizes the latest 3D Scanning Technology to gather data of existing facilities and conditions. The Point cloud data we create from our scanner is typically used to create a 2D CAD drawing or 3D Revit model of the building or objects surveyed.
We know the important role as-built documentation has in helping you avoid delays through reworks, maintenance, or renovation phases of a project. When field surveys are completed, the point clouds can be turned over to you so that your company has a record of that 3D data.
---
3D laser scanning in half the time
B-CAD's 3D laser scanning services will capture images of entire rooms, including ceiling, every fixture, every feature, so that your facility is measured and drawn using the most accurate method.
What could typically require two people measuring a room now takes one person, cutting survey time in half.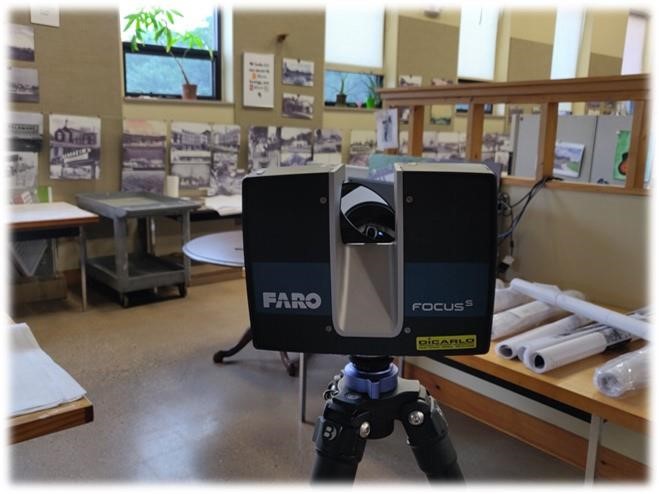 B-CAD 3D scanning services have been used by various industries to aid in their creative processes, including:
Reference for future renovations
To ensure accurate space allocations
To ensure floor heights, stairwells interacting with roofs, and other details are accurate
For asbestos remediation plans
Emergency evacuation plans
Create drawings of parts or assemblies
Keep accurate drawings to meet requirements by governing authorities
Reverse Engineer Existing Components
Create Existing Conditions Drawings Based on Survey Data
B-CAD also provides field verification services using traditional measuring methods when deemed most practical.
Our Team is trained to conform to client and industry accepted safety requirements and understand the importance of personal and occupant safety and protection. B-CAD has an OSHA 10 Certified staff member
B-CAD staffs the work with the appropriate individual matched to capture specific building systems adequately and efficiently.
B-CAD Field Surveys and Field Verification Specialties Include:
Point cloud Data From 3D Scanning Technology
Architectural Floor Plans
Furniture Layouts
Reflected Ceiling Plans
Room Number & Department Names
HVAC and Plumbing Systems
Electrical and Communication Systems
MEP Plant Equipment Sizes and Layouts
Ongoing Advantages Include:
Drawings created with client standards
Better understanding of facility conditions & needs
More effective planning
More accurate design & construction
Facility Managers/Maintenance better informed